What Ever: An American Odyssey in Eight Acts
1 WOMAN 100 CHARACTERS 1 STORY
WHAT EVER is a 100-character epic serial performance performed by one actor, in 8 installments. It follows 10 main characters across America as they intersect with over 90 others and their lives and stories converge. "WHAT EVER" is the result of a dare. A friend challenged Heather to write and perform a new show every week for a year. She modified the length to a pregnant nine months and took up the challenge in September of 1994. For thirty-seven consecutive weeks she wrote and performed a new half-hour of "THE HEATHER WOODBURY REPORT" in the back of an East Village bar. As characters and plot line developed, audience became mid-wife and the "performance novel" was born.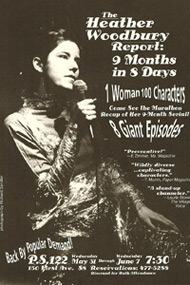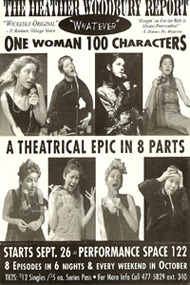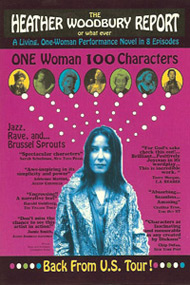 The long addictive yarn she spun was shortened and tightened by director Dudley Saunders (the guy who dared her!) and "What Ever: An American Odyssey in Eight Acts", directed by Saunders, premiered two weeks later at P.S.122 in June of 1995. It went on to tour internationally as a critically acclaimed epic (8 part) solo play -from Chicago's Steppenwolf to London's Royal Festival Hall.
The NY Times describes it as having "the scale of a Dickens serial and the melodramatic punch of 'The Young and the Restless', it is, along with Lily Tomlin's "Search for Intelligent Signs of Life" and Danny Hoch's 'Jails, Hospitals and Hip-Hop', one of the masterworks of the solo form." more NY Times what ever review
The new form went on to gather acclaim as a groundbreaking invention, which stretches the boundaries of contemporary theatre even as it echoes the origins of literature in the oral tradition.
As a radio-play, WHAT EVER was hosted by Ira Glass, featured on PRI's "This American Life", and broadcast on NPR affiliates in Chicago, Seattle, Albuquerque and Boston.
What Ever is now published as "a living novel " by Faber/Farrar, Straus & Giroux. This edition is also being utilized as a script for productions with multiple actors> and as a teaching text at colleges and universities.
buy the book!
For permission to produce as a play by an ensemble, please contact
Twinhead theatre company's production in atlanta, 2002, view pix
Cast of Characters
Clove Carnelian - A young raver, citizen of Santa Cruz, California, given to dangerous ecstasies, haunted by Cobain the Friendly Ghost
Skeeter a.k.a. Ezekial Christian Frye - A young raver, stricken with love for Clove and Sable, raised hitching rides with his ma Linda, native of Oregon
Sable Nugent - Clove's "best friend and fairest cohort", a young raver, in love with Skeeter, at turns envious of and protective of Clove
Violet Smith - An Upper East Side octegenarian given to regaling the customers of the Blue Ship Diner and her poodle Balzac with tales of her long and unexpected life
Paul Folsom - retired C.E.O. of Axnell Corp., suffering regrets and grave confusion, husband of Polly, lover of Jeanette
Polly Folsom - Paul's wife, a Southern belle housewife, trapped in her clean house, unconsciously racist, falls in love with Ruben, a black garbage disposal contractor
Jeanette Gladjnois - Skeeter's aunt, Linda's sister, Paul's mistress. A brittle Manhattan ex-call girl cum crystal healer, seeking to heal herself through healing others
Linda Frye - Skeeter's mother, Jeanette's sister. A Wicca witch of the North Coast, embittered by the desertion of Skeeter's dad Bruce Frye, a pot smuggler.
Bushie a.k.a. Mollie Bright - abrasive, brave and crack-addled Hell's kitchen whore in a one-woman war with the yuppie condo owners of West 45th street
Over 100 others too numerous to mention.
Plot Spin
This comedic epic (8-part, 10-hour, 100 characters) orbits around ten main characters from across the country whose lives ultimately intertwine. From 85-year old Violet, an Upper East Side bohemian struggling with mortality, to chemical executive Paul, grappling with a crisis of conscience, to his stifled Southern housewife Polly and his brittle Manhattan mistress Jeanette, both searching for release, to Hell's Kitchen whore Bushie, dodging destruction with her naked wits, the story spins from coast to coast, bound together by the chance meeting of three West Coast "ravers"- Clove, Sable and Skeeter -whose adolescent quests begin and end at a fateful Rave.
"Woodbury's remarkable, funny, outrageous, profoundly moving and often scarily brilliant epic carries us from a rave party in Santa Cruz , to the mean streets of the East Village and Times Square in the early 1990's. It sweeps us back to the hippie days of the early 1970's. It infuses us with the memories of the two World Wars. And it makes us feel the momentum of the century by tossing us onto trains, planes, motorboats, and the dangerous front seats of vans whose drivers are still willing to pick up hitch hikers. And when the actress-writer can't get you there on a standard ticket, she sweeps you up and away on a broomstick ride" more Chicago Sun Times, What Ever Review
"The story unfolds over nine months in 1994 and 1995. Woodbury's Odysseus is Skeeter, a sixteen year old boy who hitch-hikes across the U.S from his home in Portland, Oregon, first to visit his father in federal prison, then to land on his Aunt Jeanette in New York."
"The core cast of characters clusters around two groups. There are Skeeter's family and friends: among them the California "rave babes" Clove and Sable, to whom he has jointly pledged his everlasting love. His aunt Jeanette, call-girl turned crystal healer is the hinge that links this group into the second cluster, her lover Paul, a 68-year old corporate high-flyer and his Virginia family: his Southern Belle wife, Polly, who has embarked on a passionate affair with a black man, and their tree-hugging daughter Sheila."
" Touching on these two groups is the vivid presence of jazz-age doyenne Violet, a salty patrician New Yorker, with an endless fund of stories about her numerous marriages and divorces and the wisdom that comes from having seen it all." more Irish Times, What Ever review
A Backwards Chronology
2004
What Ever produced as MULTI-ACTOR play in Atlanta, Twin Head Theatre Co.(SEEPIX)> (Read testimonials)>

2003
First "performance novel" What Ever: An American Odyssey , published by Farrar, Straus & Giroux(BUY BOOK)> U.S. (excerpts also published in The Paris Review (edited by George Plimpton) and Extreme Exposure: An Anthology of Solo Performance Texts of the 20th century (edited by Jo Bonney)

1996-1999
What Ever: An American Odyssey In 8 Acts 10- hour, 100-character solo play/"performance novel", directed by Dudley Saunders. The complete 8-act cycle performed a total of 41 times, in the course of 7 showcase /workshop productions and 10 full productions.

These include:
SHOWCASE/WORKSHOPS


| | |
| --- | --- |
| 1999 | Joe's Pub at the Public Theater, NY |
| 1995 | Performance Space 122, NYC |

PRODUCTIONS


2003 Sep
Performance Space 122, NYC
2003 Apr
Yale Repertory Theater
2002 Oct
Dublin Theater Festival, Ireland
2002 Jul
Steppenwolf Theater presents at Galway Arts Festival, Ireland
2001
Blackman Auditorium, Boston, Producer: Northeastern University
1999
Wexner Center for the Arts, Columbus, Producer: Wexner
1998
Steppenwolf Theater, Chicago, Producer: Steppenwolf
1998
2100 Square Feet Theater. L.A., Producer: Peter Soby Production
1997
Triple X Festival, Amsterdam, Producer:TripleX Festival
1997
Laurie Anderson's Meltdown Festival, South Bank Center, London. Producer: SBC
1996-1998
Vortex Theatre in Austin, Texas (6 productions) Producer: Vortex
1997 Oct
"This American Life," hosted by Ira Glass.
1997
Commission from Kavanagh Fund, a private fund in Austin, Texas, to record complete "radio-play' of What Ever in a studio production.
1995
$5000 Commission from Lila Wallace Reader's Digest Fund and Joyce-Mertz Gilmore Fund through P.S.122, NYC to abridge and mold What Ever: An American Odyssey in 8 Acts from the 20 hours of material created during the 9-month writing and performing laboratory known as The Heather Woodbury Report.
1994 Sep
-1995 May
The Heather Woodbury Report A 9-month dare, to write and perform a weekly episode for 37 weeks in the back of a NYC bar. I began with very little idea of what was to come except for the germs of certain characters, images, and themes. This became an underground phenomenon.
1994
X-Static Woman 9-month performance dare known as The Heather Woodbury Report. Result: What Ever commission/honorarium from Jerome Foundation through Franklin Furnace, NYC
Addendum to What Ever
| | |
| --- | --- |
| | Violet in Shades of Blue: A 20th Century Life and The Lost Christmas Episode |
| 2001 | The Evidence Room in Los Angeles California, Producer: Evidence Room |
| 2001 | Mainstage "TRAFFIC" series at Steppenwolf in Chicago, Producer: Steppenwolf |
| 1996 -1999 | Vortex in Austin, Texas (3 productions) |