Heather makes the leap from solo performance to multi-actor play, with the OBIE award-winning ensemble performance of TALE OF 2CITIES: AN AMERICAN JOYRIDE ON MULTIPLE TRACKS. Tracing the bi-coastal impact of the Dodgers' 1957 move from Brooklyn to Los Angeles on three generations, the two-part play takes the form of an epic "mix" of lives and stories, spun together by a young L.A. DJ mourning his grandmother's death. From the rise of Senator McCarthy to the fall of the twin towers, "Tale swoops through cities and drops into the minds of a mini-series worth of major and minor characters" David Cote, Time Out NY
A six-act, two-part saga, 2Cites won both an NEA Fellowship and a Kennedy Award while in development at the NY Public Theater. In 2006,Woodbury won the inaugural Spalding Gray Award, initiated by UCLA LIVE and PS 122 and Kathleen Russo, Gray's widow, for "writer/performers who fully realize both aspects of Gray's legacy" and are "fearless innovators". This award commissioned the first ensemble production of the piece, which Heather developed mainly through a series of solo performances. It is published by Semiotexte and can be performed by ensembles or commissioned as a solo performance.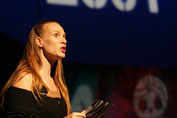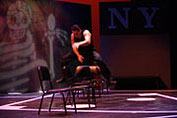 OBIE-winning ensemble members: Tracey Leigh, Winsome Brown, Ed Vassallo.
more production photos
The bi-coastal production co- premiered in Fall, 2006 at UCLA Live's Fifth International Theatre Festival in Los Angeles and Performance Space 122 in New York with a multi-racial cast from both cities.. The actors in this production, winners of the 2007 OBIE for ensemble performance, were Tracey Leigh, Michael Ray Escamilla, Winsome Brown, Ed Vassallo, Diane Rodriguez, Leo Marx and Heather Woodbury.
Read more about this project in "what's new" blog archives on home page - click on "more" in the "what's new" box Publishing Date: September 20th, 2006.
www.semiotexte.org/authors/taleOf2Cities.html
"A reminder of what a vibrant and endlessly inventive thing theater can be... a triumph of unfettered creativity"
- Terry Morgan, Variety
"Breathtakingly expansive...the canvas on display here has a scale that bears comparison to the titanic undertakings of Anna Deavere Smith and Tony Kushner... her vision has a sweep and maturity that's just as thrilling to behold."
- Charles Mc Nulty, LA Times
History
In 1957, New York lost the Brooklyn Dodgers. That same year three (mostly) Mexican-American communities in Los Angeles were evicted to make way for the newly franchised Los Angeles Dodgers Stadium. Their homes, in a beautiful valley called Chavez Ravine, disappeared. The highest hill in L.A. was razed. The Brooklyn Dodgers' playing ground, Ebbets Field, was also reduced to rubble. In Brooklyn, the loss of home team marked the erosion of a hard-won collective spirit. In L.A, homes had disappeared slowly throughout the 1940's as occupants were persuaded or forced to sell out in order to make way for a liberal-backed public housing project. Later, a conservative electoral sweep purged the L.A. Housing Authority of leftists and cancelled the public housing plan. In 1962, the LA Dodgers Stadium was completed. Also in 1962, the Ebbets Housing Project was erected on the site of Ebbets Field in Brooklyn.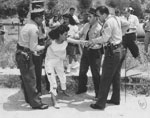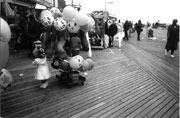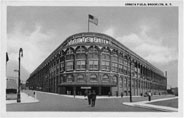 Heather's research photos: Brooklyn and L.A. 2001
Plot Spin
Tale Of 2Cities traverses different times and places. A young DJ in L.A.spins a funeral mix for his dead abuela (grandmother); the grandmother ghost flies around Los Angeles, searching her haunted past and present; an elderly Jewish leftist activist from Brooklyn lies in a coma following a mysterious attack at the Ebbets Field Housing projects. The young girl accused of beating her, a resident of Ebbets Housing, is herself unsure of where she was on the day of the beating. In her search for the truth, she too collides with forgotten people and places. The interwoven stories and histories of these characters and of their cities form a tapestry of memory and event...
Cast of Characters
Gabriela nee Zorrita Hauptman: - Manny's dead 61- year old grandmother grew up in La Loma, one of the three Chavez Ravine barrios. Now a "hungry ghost," she traverses past and present via boulevards, paths, and freeways in LA, passing through people and places and times.
Manuel "Manny" Vasquez: - a 19-year-old talented but troubled mix artist (DJ). He is spinning a lonely mix over his grandmami's dead body, blending his "disappeared" familia's abandoned record collections, recalling his past, haunted by his present, deciding how and where to bury his abuela (grandmother). His mix transcends his own personal reveries and ignites the meta-mix that comprises this play.
Miriam nee Klinger Tromble Flieschman: - a Leftist Jewish activist from Brooklyn in a coma after a mysterious attack at Ebbets Field Housing Projects. She lived in Los Angeles in the 40s and 50's with her first husband Lonnie Tromble, befriended Gabriela as a child, and got involved in local politics. During the play, traverses time and place mostly via her letters and diaries.
Angela De Mayo: -13-year-old girl living in Ebbets Housing. suspected of being ringleader in attack of Miriam. Brilliant, strange, poetic.
Hannah Klug: - Miriam's angry niece, standing vigil over Miriam in hospital, e-mailing her brother Josh, reading her aunt's old letters and diaries. A New Yorker, feeling displaced by the new New York.
Lavinia Esmeralda Octavia "Emerald-Girl", "Esme": - Manny's ex-girlfriend. She strives to forget him and to loosen her ties with the neighborhood she grew up in. She avidly seeks self-improvement, practices self-help ideologies but reverts to Catholicism when in grave need. Ultimately, she cannot relinquish her connection to him and to her own roots.
Mike Rafferty: - Diehard Brooklyn Dodger's fan. Cab Driver. . In the course of the play, he decorates his cab interior as monument to the Brooklyn Dodgers of his boyhood. He befriends Angela De Mayo. He also takes fares from Rabbi Dave, Hannah, Josh Klug and Richard the Cop.
Samuel Wentworth: - proprietor of Hobo Ridge in 1940's -50's. Extremely old. Wears a long beard to his knees.
Ed Portnoy: - his ornery Texan Drifter tenant
Mr. Dreyfus: - a mad old man building a religious obsessional junk sculpture on Hobo Ridge.
Carolinda the Hairdresser: - Gabriela's childhood friend, a former Chicana activist.
Viviana the Hairdresser: - Gabriela's childhood friend, the owner of the Beauty Salon.
Richard the Cop: - Older Detective on the Ebbets Beating Case, a former Brooklyn Dodgers fan, grew up in Flatbush. Knew Mike as a kid.
Rabbi Dave Dovkind - a pot smoking Hasidic Rabbi, Big on the Kabbala. Yankee's fan.
Josh Klug: - Miriam's nephew, Hannah's brother. Has a hi-tech company in Korea. Yankee's fan.
Chuck the Cop - Richard's younger partner from Long Island. Doesn't follow baseball.
Skullvato: - (Death as Low-rider)
Chorus: - Multitudes of voices, characters from Los Angeles' and New York City's past and present; All sounds and signs which comprise the texture and grid of these two cities.